Shona Quinn, International Trade and Marketing Alum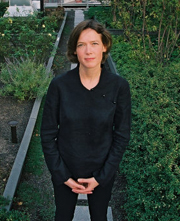 Looking at the Hudson River reminds me how we all live downstream, and how everyone's impacted by what happens upstream. I don't have to look farther than the view out my window to remember that I'm working toward something bigger than me and that we're all connected. I know that the river flows into the Atlantic Ocean and joins the world's water cycle, which is connected to the life cycle.
We make T-shirts, and it's my job to ask: What's the life cycle of a T-shirt? Where do the raw materials come from, how are they processed, and what about the workers along our supply chain? Is the impact of our T-shirts helping or harming the environment? I have this lamp with a lump of coal on my desk to remind me of the tension between balance and imbalance. Carbon is a vital element and the basis of life, but fossil fuels damage the atmosphere, upsetting the natural balance. My creative thinking on the whole complex picture of sustainability ends with a lot of people in roundtable discussions, but it begins in solitude, just me lifting my eyes off of whatever I'm doing or thinking about, onto the hills or out to the river.