Melanie Reim, Graduate Illustration Faculty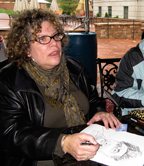 "Sniper! Sniper!" Uncommon words in an illustrator's milieu, unless, like Melanie Reim, you're in a Humvee at McChord Air Force Base south of Tacoma, WA, participating with Red Horse Squadron airmen in a simulation exercise. Someone's yelling, "We've been hit!" Yellow smoke is everywhere; the wounded cry out. The young airmen are practicing what to do, should this happen when they're in Iraq or Afghanistan. Reim observes, close range, and makes quick, edgy pencil sketches, which she'll refine when she gets back to the relative calm of New York. As for the airmen, they'll train for 28 days, and then deploy.
Reim was there as part of the Air Force Art Project's collaboration with the New York Society of Illustrators. Artists have now been sent to document wars and other crises, from World War II to New Orleans after Katrina. Sometimes they document war games rather than real-life conflict.
"It's very official," Reim says. "It's called a 'mission.' You get your orders from a sergeant in Washington, DC. You're fitted with body armor, which weighs about 40 pounds. I'm even given the rank of colonel for a week."

Every year, there's a juried show at the Society of Illustrators; selected pieces go into the U.S. Air Force collection at the Smithsonian.  McChord was Reim's third mission. All were at bases in the U.S.

"I'm a documentary artist. I love the idea of recording onsite," she says. "When I was there, they were using blanks. The next day, they were using live ammo. I would've stayed if I had the chance."