Tori Nichel, Fashion Design Alum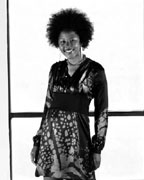 Anyone who knows anything about fashion will tell you that when it comes to stress and mental anguish, running a successful independent clothing line is on a par with orchestrating a presidential campaign. But 30-year-old Tori Nichel, the creator of her eponymous women's line, shows not a hint of strain. She might drop the occasional anecdotal caution about the fashion industry ("You think you know, but you just don't"), and even mention the dreaded f-word (financing) once or twice, but even then, her serene demeanor shows nary a fissure.
Tori Nichel's seductive designs have been getting the right kind of buzz in all the right places. She's received kudos from Elle magazine, plugs from the trendy consumer-friendly e-newsletter Daily Candy, and a resounding nod from WWD, which named her one of the new young designers to watch.
"The WWD story was huge for me," she says. "It came out at a really pivotal time when my spring line was being previewed for Fashion Week, so the timing was perfect."
Tori Nichel holds design degrees from both Michigan State and FIT, and has real-world experience at Dana Buchman and Kenneth Cole, but her fashionista forays began even before she entered her teens.
"You see, my mother's side of the family was very fashionable," she says, "so when my cousins were playing at my grandmother's place, I'd be out shopping with my mom and aunt. Even back then, I'd always pick shopping over playing."
In high school, the West Bloomfield, MI, native had a stroke of luck: Christiane McCormick, an FIT alumna now in her seventies, became her "fashion godmother." A former model, fashion designer, and college professor, McCormick "taught me the basics of patternmaking, draping, how to fit, how to measure—without her I would really have been a scatterbrain all through fashion school. She was an amazing fashion influence on my whole career."