The innovative designs of three students were included in flat knitting machine builder Stoll's current Trend Collection for Autumn/Winter 2009-10, titled Nomads. These designs are the result of a competition held at FIT during the winter 2008 semester by Stoll America Knitting Machinery in the U.S. and Stoll's Germany-based Fashion and Technology department. The competition required FIT students to address the challenges of global mobility by designing garments that have multiple uses and function in a variety of climates.  
Stoll looked for designs with the sophistication necessary to provide its customers with up-to-date, innovative pieces that would also showcase the capabilities of Stoll's machines.
From submissions of sketches by ten students, four designs by three students were selected for production. Casey Pyle, who graduated in 2008 with a degree in Fashion Design, created a catsuit that converts into a shoulder bag and a sweater that becomes a backpack. Hye Jin Choi, a 2008 Textile Development and Marketing graduate, designed a blouse that converts into a dress. Min Kwon, who is expected to graduate in 2009 with a degree in Fashion Design, contributed a top that can be worn as a skirt.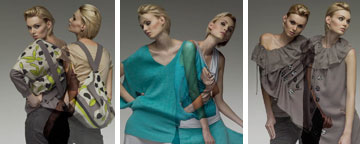 Stoll provided both the expertise of its knitwear specialists and its extensive technology to help the three students turn their sketches into garments. Jorg Hartmann, head of Fashion and Technology at Stoll, said, "We were very excited to see that a close cooperation between industry and education turned out to be equally beneficial. The students experienced a unique chance to work with knitwear specialists, and in exchange Stoll received valuable creative input from upcoming designers who challenged the technical capabilities of our equipment."
"The winners of the Stoll's Trend Collection Autumn/Winter 2009-10 competition had the unique opportunity to collaborate with Stoll's development team in putting their designs into work," said Ann Denton, assistant professor, Textile Development and Marketing at FIT. "For a student pursuing a career in fashion, the experience of working side by side with industry professionals is extraordinarily valuable."