Ralph Rucci, Fashion Design Alum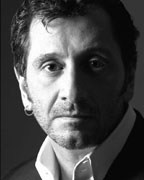 I never stop thinking about the collection, but epiphanies come out of nowhere. I could be walking down the street, or working out at the gym, or making my dog breakfast, and I have the whole thing in my mind. I see the set, the hair, the make-up, and I see the beginning cut of the garment. Then itís physically done at this desk. My desk will be chaos, completely covered with sketches, and my mind will be very nervous, jumping from sketch to sketch, from coat to jacket to dress and back. Itís a process that begins slowly, but as it unfolds you run behind it. It leads you. But you need to shut down and be pure receptacle, then the pen takes off. Thatís been called the creative process, but thereís a big dose of divine intervention. I listen for the whispered message, the vein thatís going to pull it all together, that one string.
Every morning having my breakfast, I play a game. I pull a book from my bookcaseóany bookóand inevitably I will find something that ignites something else. My creative discoveries are always accidental, but the idea is always there, always will be. I have faith, but Iím equally driven by fear. There have been collections where I work all night, then at two in the afternoon I shower and change, consumed with panic of failing, failing myself. I go over to the tent to present the collection, convinced itís terrible. Iíve even said, ďIf I donít like it when itís totally finished, weíre sending out mailgrams that weíre not showing.Ē And then, after I line it up to do the run of show after the all-nighter, I often walk away, rest my eyes for about an hour, come back and Ö Iím in awe.