Austin Scarlett, Fashion Design Alum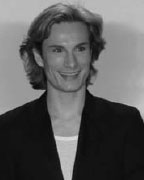 "Outrageous! That's me," says Austin Scarlett.
A viewer favorite on the first season of Project Runway, Scarlett became the head designer and creative director for Kenneth Pool, a bridal wear company owned by Fashion Design alumna Amsale Aberra, in January 2006. Known for creating couture-inspired eveningwear, he says working in bridal has been a good fit.
"Ready-to-wear's just not my bag," he says. "A lot of what I do here is designing the beadwork for the gowns. It's hand-beaded in India, but I draw it myself." He also loves working with a patternmaker to create intricate silhouettes and going to the trunk shows to meet customers face to face. "You can see your designs on all kinds of girls—the full spectrum," he explains. The line is sold in some of the world's best stores, including Saks and Harrods.
Raised in the unlikely environs of Eugene, a smallish town in Oregon, Scarlett hightailed it to New York as soon as he was able. He says he liked FIT because "the emphasis was on technique and construction—which totally prepared me for Runway." He raves about Francesca Sterlacci, assistant professor of Fashion Design, and says Assistant Professor George Simonton was "fantastic."
"I think I was one of those kids who maybe didn't get his homework done on time," he says with a touch of chagrin, "but when I did finish, it was always wonderful." For his part, Simonton remembers Scarlett as "very talented," and adds, "He was all about drama—did you notice that?"
Most viewers did—the sylphlike blond was known for his histrionics on the show. In one notorious scene, he burst into tears when a fellow contestant was cut from the competition. "He was always in a tither, always worried," Simonton says, "but he had a real vision."
Having parlayed that vision into a promising career, Scarlett says he is entirely satisfied with his experience on Project Runway. "Even going in, I thought I probably wouldn't win first place," he says. "I saw it as a fantastic platform for me. I got to show what I can do, and what I'm about. There's no bitterness." He still watches the show, "absolutely," and he thinks its central conceit, a competition based on talent, has "raised the bar of television." He's pleased with how he came off. "Sure, I'm proud of my performance. I'm proud to be one of the originals, because in fashion, it's always important to be an original."