Shazia Shah, TDM Alum
Director, Global Supply Chain Management, WestPoint Home, Inc.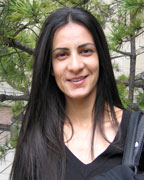 In my first semester as a Fashion Design student, I had a textile science class that showed me there was so much more to textiles than surface, that there were structural components. Thatís when I changed my major to Textile Development and Marketingóand it changed everything for me.
When I started, I thought that a garment just means something visually. But there are many other things to it, such as the way it drapes on a body. I realized that the structure of the textile, how the fabric behaves, matters as much as how the fabric looks. This isnít just learning about textiles, itís an education in product development.
I see everything differently now. I was recently looking at a plastic bottle thatís supposed to crumple more easily, be more biodegradable. I wondered how it was made, how they made it more ďgreen.Ē I used to think plastic was plastic, but now I find myself deconstructing everything. Even if I donít have all the technical information, I can analyze and break down claims about a product, like when someone says itís ďnew and improved.Ē On top of everything else, itís made me a smarter shopper. Who knew?