Louis Hess, Communication Design Alum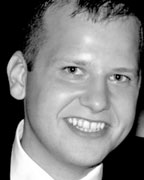 One day, this well-known New York graphic designer spoke at one of our Speakersí Series events. Her name was Bridget de Socio, and she changed my life. When she spoke, my mind was on fireóI never felt like that before. My department chair set up an interview and Bridget and I hit it off right away. On her recommendation, I got to work for the Art Directors Club and I got to design my own book, the Art Directors Annual (84). Here I was, an FIT senior, going on a promotional trip to Hong Kong, all by myself, for a book I designed.
Now Iím working at Saatchi & Saatchi, with Bridget, on JCPenney, an account we pitched together. I grew up in upstate New York not even knowing what graphic design was. But as a kid I was always interested in design. Once I took scissors and cut out the designs on the back of a dollar bill. I caught a beating for it, but I thought it was so cool. At first, what amazed me about the city was how the subway in a few short hops took you to completely different worlds. As much as Iíve traveled, it still shocks me that a place as small as New York could hold all these amazing niches, these little worlds.