Katherine Granados, Fine Arts Student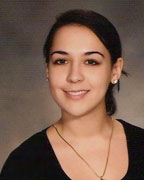 Getting affirmation for what I like to do has been big for me. You always have doubt, but the teachers here have really pushed me. I never thought I'd be working with the materials I'm working with now. I've started this experimentation with soft sculpture. When I first did that, it was like, wow, a whole world of possibilities opened up for me. That was huge, to step back and see the whole landscape of things I could do.
I brought to my work a lot of my past—as a child I worked with crafts and crochet and other materials—but my teachers introduced me to a different way of seeing it. They opened up the entire spectrum of, "What are you doing, who are you, what do you like, what do you want to do?" It's a way of approaching the work and a way of thinking that I'd never even considered before.