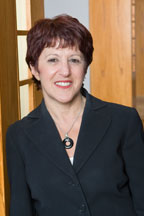 Shari Prussin is deputy to the president for strategic initiatives and executive assistant to the president. She oversees the college's strategic planning efforts and the implementation of special projects and initiatives assigned by the president. Ms. Prussin serves as the president's principal liaison with FIT senior administrators and the college's external constituents, and represents the president on college committees. She also serves on the board of the FIT Student Faculty Corporation.  
Before joining FIT, Ms. Prussin served as deputy to the President at Hunter College, Queens College, Hudson Valley Community College, and Borough of Manhattan Community College. She has led administrative system vendor selection, as well as planning and/or implementation efforts at several colleges and universities including Community College of Philadelphia and City University of New York. She also served as a senior consultant with Cedar/Crestone and Ciber, Inc. where she assisted colleges, universities, and other public agencies implement student administration, human resources, and institutional advancement systems.
In other CUNY positions, Ms. Prussin served as acting director of summer session and development officer at Queens College and at Borough of Manhattan Community College, as director of internal controls and management analysis and bursar. She has taught in the business and liberal arts program at Queens College and in the department of mathematics at Borough of Manhattan Community College.
Ms. Prussin has given presentations on enterprise computing at the 2003 CUNY Technology Forum, on reengineering continuing education at the 1998 Continuing Education Association of New York conference, and on integrated student-centered planning at the 1998 SCUP Mid-Atlantic Conference.
Ms. Prussin earned an MBA from Baruch College and a BS in Education from the City College of New York.