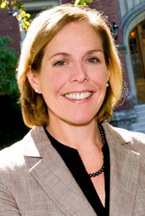 Dr. Mary E. Davis is the dean of the School of Graduate Studies. She oversees four Master of Arts programs: Art Market: Principles and Practices; Exhibition Design; Fashion and Textile Studies: History, Theory, Museum Practice; and Sustainable Interior Environments; a Master of Fine Arts program in Illustration; and two Master of Professional Studies programs: Cosmetics and Fragrance Marketing and Management; and Global Fashion Management.
From 1998 to 2012, Dr. Davis was a professor in the Department of Music at Case Western Reserve University, and served as department chair from 2009 to 2012. She was also professor of management policy at the university's Weatherhead School of Management.
Dr. Davis specializes in cross-disciplinary studies of music, fashion, and culture. Her most recent book, Ballets Russes Style: Diaghilev's Dancers and Paris Fashion, earned praise in sources ranging from The New York Times to specialized academic journals. Her earlier books include Erik Satie and the monograph Classic Chic: Music, Fashion, and Modernism, which was short-listed for the Costume Society of America's Millia Davenport Publication Award. Her other work includes the essays "Refashioning the Fashion Plate: Poiret in Context," which appeared in the catalogue for the Metropolitan Museum of Art's 2007 Paul Poiret exhibit, and "Chanel, Stravinsky, and Musical Chic," published in the journal Fashion Theory. A frequent lecturer on these topics, Dr. Davis has spoken at institutions including Parsons The New School for Design, Boston University, Harvard University, and the Cleveland Museum of Art.
Dr. Davis also pursues scholarly interests in popular music. While at Case Western Reserve, she served as liaison to the Rock and Roll Hall of Fame and Museum and led the successful effort to establish the university's Institute for Rock and Popular Music Studies. She managed a number of collaborations between CWRU and the Rock Hall, most notably the annual American Music Masters series, which honors a major figure in popular music with public events and an academic conference. Her publications in popular music studies include a number of articles and the edited volume Waiting for a Train: Jimmie Rodgers's America.
From 2006 to 2012, she also served as associate director of the Baker-Nord Center for the Humanities at CWRU, where she created public programming and oversaw curricular and scholarly initiatives.
Dr. Davis earned Ph.D. and A.M. degrees in musicology from Harvard University. She holds two additional master's degrees, in musicology from the New England Conservatory of Music, and in piano from the Peabody Institute of Johns Hopkins University. She earned her undergraduate degree from St. Mary's College in Notre Dame, IN.