Dympna Bowles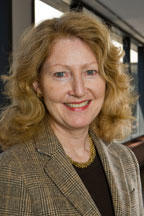 Dympna Bowles is Dean for Curriculum and Instruction at FIT and has been at the college since 2001. She facilitates the development and approval of new degree programs and curricula, and has responsibility for faculty development, the Teaching Institute, and the Office of Online Learning. Dr. Bowles oversaw the creation of FIT's first Center for Excellence in Teaching (CET), a state-of-the-art technology training facility for faculty. She also serves as liaison to SUNY and Middle States.
Dr. Bowles is Chair of the Advisory Board of the City University of New York's (CUNY) Institute for Irish-American Studies. She was recently named among the top 100 Irish Educators by the Irish Voice and Irish America Magazine in October 2009, and among the top 65 Women of Influence in 2010 by the Irish Voice. In 2007, she participated in Harvard University's Institute for Educational Management (IEM) Program in Cambridge, Massachusetts.
Before joining FIT, Dr. Bowles was Director of Planning at John Jay College of Criminal Justice for six years. Among her responsibilities were the coordination of the College's Multi-Year Plan and its Periodic Review Report for Middle States, and oversight of its Evening/Weekend and Summer programs as well as its AAS program for correctional officers at Rikers Island.
Previously, Dr. Bowles served in a variety of administrative positions at CUNY's Office of Academic Affairs in the areas of faculty development, teacher education, and articulation and transfer. She directed the project to develop the CUNY system's first Course Equivalency Guide in 1985 and led the collaboration to create a new Family College at Bronx Community College in cooperation with the NYC Dept. of Education and HRA. Dr. Bowles has authored many documents and publications on a range of higher education topics, including articulation and transfer, faculty development, teacher education, and public-private partnerships.
Previous to her administrative positions, she was an Assistant Professor of Reading at Brooklyn College. She holds a B.A. from St. John's University, an M.S. from Fordham University, and a doctorate in Linguistics and Reading from Columbia University Teachers College. Dr. Bowles currently serves on the Middle States Substantive Change Committee, and was a member of the accreditation team for the Western Association of Schools and Colleges (WASC) to review one of its constituent colleges in 2007 and 2009. She led a panel of FIT faculty at the IFFTI Conference at NC State in June 2006 in a presentation, "How Well do we Fit: Reporting on an FIT Fashion/Textile Industry Survey," and was a panelist at the 2010 Campus Technology Conference in Boston on "Rethinking Online Pedagogies."