Arthur Brown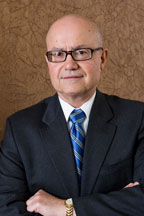 Arthur E. Brown, Jr., is vice president for Human Resource Management and Labor Relations at the Fashion Institute of Technology (FIT). As chief administrator of human resources, Mr. Brown leads a staff of 17 employees and oversees all human resource functions, including employee relations and training, faculty and staff recruitment, performance appraisals, compensation, benefit administration, human resource systems, and labor relations.
Before joining FIT in 2008, Mr. Brown served for three and a half years as university director of human resources City University of New York (CUNY). He also headed CUNY's project to reengineer the university's human resource business practices and integrate best practices into a program for CUNY's 23 colleges serving 35,000 employees and 400,000 students.
Mr. Brown's experience in government includes 12 years with the New Jersey Department of Personnel, where, as assistant commissioner for human resources, he developed human resource policies, objectives, and initiatives for 200,000 people in 250 state, county, and municipal governments. He served as an adjunct professor at the College of New Jersey and Rutgers University. He also served as consultant to the United Nations Industrial Organization in Vienna; the Public Service Electric and Gas Nuclear Power Plant in Salem, New Jersey; and several New Jersey hospitals. 
Mr. Brown received his Master of Arts in administration and his Bachelor of Arts in English and psychology from Rider University. He earned his designation of Certified Compensation Professional from WorldatWork (the American Compensation Association), and his designation as Senior Professional in Human Resources from the Society of Human Resource Management.