/
/
/
/
Common Read Program
Common Read Program
Mission:
The Common Read program is designed to engage the FIT community in shared dialogue on issues that are relevant to the global community in which we live and learn.  The Common Read typically revolves around an engaging fiction or nonfiction book which has been selected by the Common Read committee. It is an introduction to our academic expectations, inclusive culture and the desire for meaningful dialogue and global community building.
---
FIT is delighted to announce the Common Read selection for 2014-2015: RELISH: My Life in the Kitchen by Lucy Knisley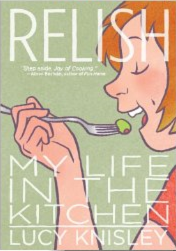 In this Technicolor love letter to cooking and eating, Knisley presents her personal history as seen through a kaleidoscope of delicious things.
Defying the idea of eating as a compulsion and food as a consumer product, Relish invites us to celebrate the meals we eat as a connection to our bodies and to each other. Knisley's intimate and utterly charming graphic memoir offers reflections on cooking, eating, and living – as well as some of her favorite recipes!
All first-year students are asked to purchase a copy Relish to read over the summer, available at the FIT bookstore or from a number of other bookstores and publication retail outlets. If you are in need an accessible version of Relish, please contact the office of Disability Services (FIT-Able) at 212 217 4093 for assistance.
Discussion Questions:
1.       After reading this book, in what ways does food play a role in our culture, community, coming of age and growth?
2.       How do you think the author came to the decision to write a graphic novel?
3.       Was the book reflective of your creative interest, skills, etc? If so, how?
4.       Does food play a role in your cultural identity? If so, how?
5.       What is the message that you received from reading the book?
 
---
Scheduled Activities:
Please join us during New Student Orientation on Thursday, August 21st from 4-6 PM in the John E. Reeves Great Hall for the Minors Cookie Social and the introduction of the Common Read Program. Lucy Knisley will briefly discuss her book RELISH: My Life in the Kitchen and be available for a book signing.