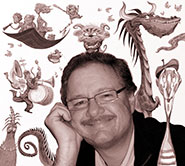 Brian Ajharís career as an artist has spanned three decades. His extensive and diverse client list includes numerous magazines, newspapers, advertising agencies, corporate clients, and book publishers. His illustrated childrenís books have been published worldwide in a multitude of languages and have appeared on the New York Times Bestseller list.
Ajharís work is widely recognized for its distinctive and humorous point of view, and the diverse range of ideas address a variety of social, economic, and political issues. His whimsical paintings incorporate traditional mediums such as watercolors, acrylics, pencils and inks that have been integrated with digital technology.
Brianís work has been featured in many articles and books written about the field of illustration such as The Illustrator in America by Walt Reed.†
Brian is a frequent guest lecturer and has been teaching illustration concepts and character development for the past 16 year and is the recipient of distinguished Koopman Chair Award for the Visual Arts.