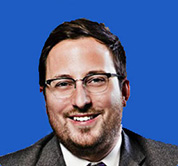 Joe Rospars is the Chief Executive Officer and Founding Partner of Blue State Digital, overseeing all strategy agency engagements. He previously served as Chief Digital Strategist for Obama for America.
For both the 2008 and 2012 campaigns, Joe was Barack Obama's principal digital strategist and adviser, overseeing the digital integration of the unprecedented fundraising, communications, and grassroots mobilization effort.
The digital arm of the campaign provided the backbone of design and branding both online and offline, and engaged a record-breaking number of Americans through mobile, social, video and the web. Prior to the Obama campaigns, Joe led BSD's work with Governor Howard Dean, from the founding of Democracy for America through Dean's historic 50-state strategy and the 2006 election victories.
Joe has been named to the Advertising Age "Digital A-List," and Rolling Stone included him among "100 People Who Are Changing America." Blue State Digital is a full-service digital agency that develops and executes multi-platform digital and social marketing programs for some of the world's leading political campaigns, non-profits, cultural institutions, and consumer brands.
From Cadbury to Lady Gaga's Born This Way Foundation, and from the Green Bay Packers to the Metropolitan Museum of Art, BSD inspires and mobilize supporters in order to drive meaningful organizational goals - whether that's raising money, growing a fan base, or building lasting brand value through authentic relationships.
Services include website design, digital communications strategy and execution, video and motion graphics, analytics and optimization, and strategic program planning.