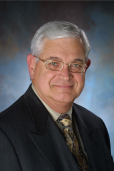 Frank Riso is a senior director and member of the Worldwide Field Operations staff at Motorola Solutions, Inc. †He is the Retail & Hospitality Executive for Motorola Solutionsí Industry Solutions Group. †He leads the companyís policy and execution for the development and implementation of the strategies and initiatives, operations and marketing activities for the retail and hospitality industry worldwide. †
His responsibilities include business development, industry relations, trade events, internal & external web content, market and competitive analysis, and joint partner marketing among others. Frank has been with Motorola Solutions for twenty-one years.
Frank Riso has over forty five years serving the retail industry beginning at store level management. †He started his career at Grand Union Supermarkets, installing Grand Unionís first POS scanning systems. †Frank has worked for Twin County Grocers, a cooperative wholesaler as its Director of Retail Services and for Supermation, an application provider for DSD software as its Vice President of Sales and Marketing until joining Motorola in 1991. †
Frank represents Motorola Solutions as an associate member of National Retail Federation and the Food Marketing Institute. He was recently elected to serve on the Associate Member Advisory Council for the NRF. †In addition to being a noted speaker and author in the field of retail automation he is frequently quoted in RIS News, Chain Store Age, Supermarket News, Grocery Headquarters, Progressive Grocer, Newsday, The Wall Street Journal, and The New York Times. †
He is an adjunct professor at the Fashion Institute of Technology in New York City for store level technology in the Global Fashion Management graduate program.
Frank holds an engineering degree in Electrical Technology from Westchester, a BS degree in Marketing from Rutgers and an MS degree in the Management of Technology and Innovation for Retail from NYU Polytechnic University and has 5 U.S. Patents regarding the use of portable data devices in retail.