Profile
Paula Cáceres, Textile Development and Marketing í12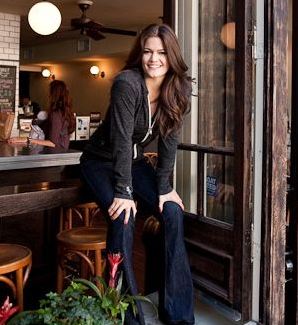 My most challenging project at FIT was developing my knitwear portfolio. We got to make our own knit fabrics, and knits are much more complicated than wovens. Creating your own fabric is a lot of trial and error, but itís really fun.
I was in love with Pradaís spring 2011 line, and thatís what inspired my knit. The line had a lot of stripes, and it was full of marigold, pea green, and bright cherry red. I made a green and yellow knit, and I created a puckering effect that resulted in a zigzag texture. It was very technical and really difficult, but when you get it right and it looks good, itís all worth it. I like that tangible feelingóyou get to say, ďThis is what I chose. This is what I made.Ē
While at FIT, Iíve had internships with Marc by Marc Jacobs, Ralph Lauren, and Oscar de la Renta, which was a dream come true. I also interned in Allure magazineís beauty departmentóby far the most fun. I canít tell you how many times I found glitter eye shadow on my clothing after coming home from work.
After graduation, Iím moving to Milwaukee for an executive development program in buying and planning at Kohlís. But Iím going to miss having all these awesome stores at my fingertipsóeven if Iím just going in to look at the merchandise and see what theyíre doing. Iíll also miss riding my bike everywhere, but I wonít miss the traffic! †