/
/
/
/
For Faculty and Administrators
For Faculty and Administrators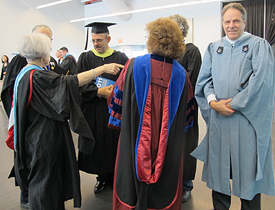 Academic Regalia

Academic regalia – the traditional cap, gown, and tassel – is required attire for all faculty participating in commencement exercises.  Faculty can rent their regalia through Barnes & Noble at FIT at the following rates: 
bachelor's gown, hood, cap, and tassel     $64.96
master's gown, hood, cap, and tassel        $69.96
doctoral gown, hood, cap, and tassel        $79.96

Deadlines for Ordering Academic Regalia
Faculty must order their academic attire by the dates listed below to ensure on-time delivery.

April 1 - 19, 2013
FIT Barnes & Noble Bookstore 
Visit in-person or call 212 217.5690

Pick-up Dates

Faculty may pick up their attire between May 13 - 17, 2013 in Barnes & Noble at FIT.
Tickets
In order to assure that all attendees—including faculty who will process—can be accommodated, a ticketing system has been instituted. You will receive an email with ticket RSVP information. All tickets are free. Please contact externalrelations@fitnyc.edu with any questions.