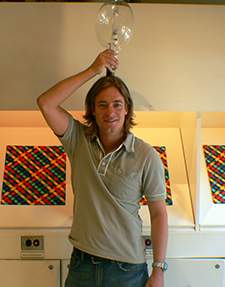 John Newman joined Kugler Ning in 2009 as a Senior Associate and became Studio Director in 2011. Graduating with a BA in International Business from the University of Massachusetts at Amherst, he began an apprenticeship in Lighting Design in Washington D.C. John later relocated to New York where he obtained a MA in Architectural Lighting Design from Parsons School of Design in 2001. 
He has gained valuable experience and insight working for Johnson Schwinghammer, Arc Light Design / Tony Chi and Associates, and The Brandston Partnership before starting his own firm, Studio Newman LLC, in 2007. John is an Adjunct Professor of Lighting Design for the Graduate Studies Program in Exhibition Design at the Fashion Institute of Technology in New York. Education: BA, International Business, University of Massachusetts; MA, Lighting Design, Parsons School for Design.
Clients have included: Harley Davidson Museum, New York University, Museum of the City of New York, Bloomberg LLP, Esquire Magazine, BASF, Ford Foundation, Gagosian Galleries, City of Miami, Infinity USA, MGM Design Group, USAA Insurance, Showtime Networks, Inc., Fordham University, Hard Rock Hotels. Publications include: Metropolis Magazine, Architectural Lighting and Design, New York Times, Esquire Magazine, Metropolitan Home. Film projects include: Wall Street: Money Never Sleeps (2010), Extremely Loud and Incredibly Close (2011).