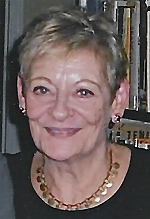 Lucille A. Roussin is the founder and Director of the Holocaust Restitution Claims Practicum at the Benjamin N. Cardozo School of Law in New York City, where she also teaches a seminar on Remedies for War Time Confiscation.  She earned her law degree in 1996 from the Benjamin N. Cardozo School of Law. She was Deputy Research Director of the Art and Cultural Property Team of the Presidential Commission on Holocaust Assets in the US and was an associate in the Art and International Law Practice Group at Herrick, Feinstein LLP in New York City.  She also teaches a course on "Art, the Law and Professional Ethics" in the School of Graduate Studies at the Fashion Institute of Technology.
Dr. Roussin earned a Ph.D. in Art History & Archaeology from Columbia University. She is currently a member of the Cultural Properties Legislation Committee of the Archaeological Institute of America and Vice Chair of the Art and Cultural Heritage Committee of the American Society of International Law, on the Board of the Lawyers Committee for Cultural Heritage Preservation and was a member of the Art Law Committee of the Association of the Bar of the City of New York for several years. 
Her law practice is primarily devoted to restitution of property taken from Jewish families during the Holocaust, especially Jewish ritual objects.  She served as an expert witness for the claimants in the recent case Schoeps et al., v. Museum of Modern Art and the Solomon R. Guggenheim Foundation.