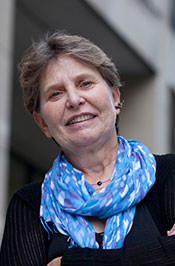 Grazyna Pilatowicz, is a full time tenured faculty member in the Interior Design Department, and a chairperson of the Sustainable Interior Environments Graduate Program, which she initiated, developed, and launched. In the undergraduate program she is teaching commercial and institutional design studios, thesis research and programming, and Ecology and the Built Environment, which is based on her book:
Eco-Interiors: A Guide to Environmentally Conscious Interior Design
. In the graduate program she is teaching Graduate Seminar.
Grazyna is an interior designer and a consultant specializing in integrated sustainable design, and in programming and space planning for institutional projects. Her professional practice includes 14 years of work as an in-house interior designer for one of the nationís largest non-profit substance abuse education, prevention, and treatment agency.
In her work and in teaching, she incorporates the conviction that design is a research-based interdisciplinary process rooted in actual places and communities. Her work is dedicated to ensuring that design takes into account the broad cultural and ecological context, and strives to transform individual and social awareness and ethics.
Grazyna has been a speaker at numerous conferences and seminars devoted to sustainable design and her lectures and articles have been included in conference publications and in industry magazines. She is NCIDQ certified, LEED accredited, and holds a MA in Art History from KUL in Poland, and a BFA in Interior Design from FIT. She is an active professional member of IDEC, IIDA, and US GBC. She is a Co-Chair of the FIT Sustainability Council.