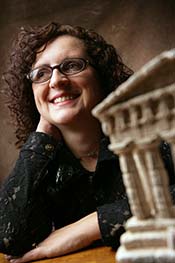 Barbara is a full-time faculty member and acting Chairperson of the Sustainable Interior Environments Graduate program. She has worked for the past 25 years as an architect, planner and historian – reinventing and restoring historic and existing buildings. She is the recipient of the National AIA Young Architect of the Year Award 2002, and was elevated to Fellowship in the AIA in 2009 as "the leading national architect and policymaker for the integration of preservation values into green building practices."
She was the co-founder and architectural leader of the National Trust for Historic Preservation's Sustainability Program and continues her sustainability work for the National Trust as a special consultant. Barbara is the author of two books,
Changing Places: ReMaking Institutional Buildings
and
New York State County Fairs: A History and Architectural Survey
, many articles on the integration of preservation and green building practices, and a popular blog entitled
True Green Cities
.
Barbara grew up in Buffalo, received an Architecture degree from SUNY at Buffalo and a Master's in Historic Preservation from Columbia University. She was the first Executive Director of the Landmark Society of the Niagara Frontier in Buffalo, ran her own architecture firm for many years in NYC, served as the Regional Historic Preservation Officer for the Northwest Region of the General Services Administration and from 2006-2011 was the Chief Architect for the 29 historic sites operated by the National Trust for Historic Preservation. Barbara started her own firm in 2011, BAC/A+P, which brings together all of her experiences – as both a consultant and client – to create a firm that occupies a unique niche in both the historic preservation and green building fields.