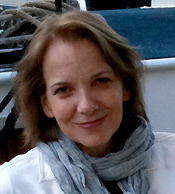 For the past four decades, Nancy Stahl's work has been woven into our culture. Her illustrations have appeared on book covers in ads, on posters, in publications, on calendars, on packaging and identity for editorial, packaging, postage stamps, corporate identity and animation clients that include
Time Magazine
,
The New York Times
,
The Wall Street Journal
and Scholastic.
She has created fifteen stamps for the US Postal Service, some of which have been among the most used in post office history. Books on illustration that have included Nancy's work are Illustrators in America by Walt Reed, Rolling Stone: The Illustrated Portraits and Design Impact: A History of Art Center College of
Design. Articles featuring her work have appeared in Graphic Design Journal 001, Communication Arts and illo. magazines. The Illustrator QuickStart Guide, Illustrator Wow! Book and Painter Wow! Book all have samples of her digital work in their gallery sections.
Beyond the MFA at FIT, Nancy has also taught illustration at the School of Visual Arts and the University of Hartford Art School and speaks at colleges throughout the country.
When the program Painter was very new, the originators visited Nancy in her studio to see how she used their software. Last year, Wacom Technologies made three videos of Nancy demonstrating her techniques using their tablets.
Nancy lives in New York City where she pursues her hobby of computerized knitting when she needs distraction. http://www.nancystahl.com