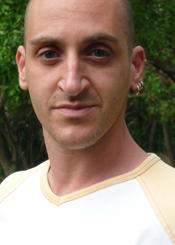 Daniel Filippone's interest in painting and drawing began at the age of seven. Born and raised in New Jersey, he further developed his interest in art by attending the Fashion Institute of Technology, where he received a BFA in Illustration. After graduation, he went on to study abroad and upon his return, his freelance career flourished as an illustrator and muralist. Daniel's illustrated works have been seen in magazines, books and CD covers.
Continuing his love for painting, Daniel earned an MFA from the New York Academy of Art, where he enhanced his training in figurative drawing, painting and sculpture. There he developed his personal vision using the figure as a central element in his work.
His work speaks to past experiences in construction and pays homage to the working class with a series of paintings entitled, "Laborers". Another series explores the natural world around him through the series of paintings entitled, "Still Life".  Daniel is also known for his work in portraiture and regularly exhibits both nationally and internationally.
Daniel continues a career as an artist, illustrator and educator, where he combines his love for painting and for teaching. http://www.danielfilippone.com/