Peter Cusack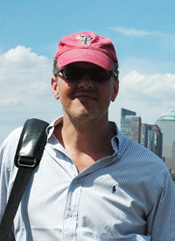 Peter Cusack is an artist and Professor of Art and Art History at St. Johnís University and FIT in New York, and a member of both the Society of Illustrators and the Art Students League. Being born, bred, seasoned and sizzled in New York City, Peterís work is imbued with the spirit of the city. With sketchbooks full of subway denizens, Peter received his dream assignment when invited to propose mural designs for the new Metro-North subway station at Yankee Stadium, and the restoration of the 153rd Street Parkchester station. His work has been exhibited in the New York Transit Museum, the Society of Illustrators, and the Must Have Been a Beautiful Baby traveling group show. Michael Fleishmanís book,
The Visual Artist at Work,
will include Peterís thoughts on art, process and drawing. Selections from his sketchbook will appear in Danny Gregoryís newest book,
An Illustrated Life: Drawing Inspiration from the Private Sketchbooks of Artists, Illustrators and Designers
.
Additional pleasures for Peter come from recalling his high-school football prowess, his knack for impersonating voices, and the joy and clear perspective he derives from early morning walks. http://petercusack.com/