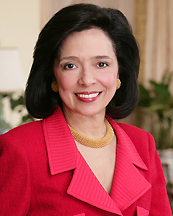 Dear Students,
Thanks to Hurricane Irene, you had an unexpectedly eventful first week at FIT, and I want to welcome you with the hope that you, your families and friends stayed safe and that your homes suffered no damage.  Here on campus, we lost a tree and added some new leaks, but thankfully there were no personal injuries.  There was quite a bit of inconvenience, however, and I want to thank all of you for your patience and cooperation during this time.
Prior to the storm and over the entire summer, FIT was busy improving, upgrading, revising and reinventing many aspects of the campus and the curriculum to make your life at FIT as vibrant and student-friendly as possible.  I would like to share some of the highlights with you:
The Dubinsky Student Center lobby has been transformed into a bright, comfortable, tech-friendly lounge specifically for you. Shortly, the former 5th floor pizza lounge will re-open as another inviting state-of-the-art lounge. And your newly upgraded dining hall now allows for multiple events and features a new media center. 
As part of a campus-wide landscaping design project, the upper and lower courtyards between the Dubinsky and Business and  Liberal Arts center now has attractive new seating, plantings and bike racks.  
Wireless was added to the Dubinsky Student Center lobby and was improved throughout the residence halls.
Emergency phones were installed in the residence halls.
At the same time, we have opened a dedicated student help desk for technical support in C-307A which will be open from 9:00 am to 10:00 pm Monday through Friday.  After 10:00 pm, you will be able to visit the Open Lab (CC15) which is open around the clock—with one exception:  it closes for cleaning on Sunday at 2:00 am—but reopens again at 8:00 am. During exams, it stays open all the time.  So you see, tech support is available to you almost 24/7 all semester long.
As you may have discovered, we have been active on many other fronts as well.  For instance, we have opened two new degree programs:  a master's degree in sustainable interior environment and a bachelor's degree in entrepreneurship for the fashion and design industries as well as a new certificate program in digital still photography.  Our minors total 19 and include such new offerings as fashion studies and international politics.  We have a new women's soccer team which just kicked off its first season.  Our series of skills building workshops, called Choices for Success—in topics such as time or stress management and study skills—are now available throughout the academic year.  And this year, FIT's homecoming will be open to you, your family and alumni with four days of parties, sports, and special events (November 2 – 5) culminating with our annual Parents Day.
I am delighted to add that we have a new director of student life—Michelle Van Ess—who has ten years worth of experience in the field of student life and comes to FIT from New York University. Like all of our other professionals in our Student Life department, she is eager to get to know you. In fact, Student Life offers a very exciting schedule of extracurricular activities—which you can learn about in many ways, including FIT This Week via your FIT e-mail accounts.
I hope you are now settled in and that your first weeks at FIT have been rewarding.  My best wishes to you for a productive and successful academic year.
Sincerely,
Dr. Joyce F. Brown
President