August 18-22, 2014: Fall Orientation – All New Students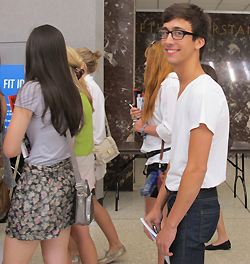 Fall orientation is mandatory and the week-long program will prepare you for both academic and student life at FIT and in New York City. This is an exciting chapter in your life and we are very happy that you have chosen to become a part of the FIT family!

Families, please remember to attend one of the special welcome sessions led by the Dean of Students at FIT.
Below is a snapshot of the schedule. For the complete schedule of activities, please see the Fall 2014 New Student Orientation booklet.
Students living on campus: Residential Life - Moving In


Saturday

Morning - Residence Hall Move In
Afternoon - Family Session
Sunday
Morning - Residence Hall Move In
Afternoon - Family Session
Evening - Floor Meetings
Evening - Residential Life Party
Monday
9 am - Check-in
Morning - Orientation Sessions
Lunch - On Your Own
Afternoon - Orientation Sessions
Dinner - Welcome Back BBQ (provided by FIT)
Evening - FIT Student Association Programming Board Event
Tuesday
Morning - Orientation Sessions
Lunch - On Your Own
Afternoon - Orientation Sessions
Dinner - On Your Own
Evening - FIT Student Association Programming Board Event
Wednesday
Morning - Orientation Sessions
Lunch - On Your Own
Afternoon - Orientation Sessions
Dinner - On Your Own
Evening - FIT Student Association Programming Board Event
Thursday
Morning - Business and Technology / Liberal Arts / Art & Design Welcome
Lunch - On Your Own
Afternoon - Business and Technology / Liberal Arts Meetings and Advisement
Dinner - On Your Own
Evening - FIT Student Association Programming Board Event
Friday
Morning - Orientation Sessions
Lunch - On Your Own
Afternoon - New York City Trips
Dinner - On Your Own
Evening - FIT Student Association Programming Board Event