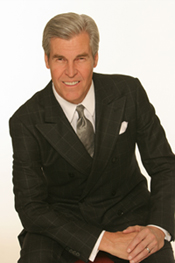 Terry Lundgren has earned a reputation as a visionary and an unrelenting innovator in the highly competitive world of fashion retailing. He has helped to reinvent the department store and led Macy's to become one of the nation's most recognized and loved retail brands.
Along the way, he has been called "Mr. Macy's" by Fortune magazine, "ambassador for Macy's" by The New York Times, "change agent" by Women's Wear Daily, the "high priest of department store revivalism" by The Wall Street Journal, and "the new king of American department stores" by Barron's.
Lundgren, chairman, president, and CEO of Macy's, Inc., is well recognized for his business acumen, leadership, philanthropy, and love of family (including his wife, Tina, and two daughters). He also currently serves as chairman of the National Retail Federation and chairman of the National Minority Supplier Development Council. Among his other volunteer capacities are board positions at Carnegie Hall, The New York City Partnership, United Way of New York City, and the Committee Encouraging Corporate Philanthropy.
The Lundgrens are supporters of a wide range of charitable causes, including the Ronald McDonald House of New York. Lundgren has served as dinner chairman or as honoree for numerous retail industry organizations and charities, including Carnegie Hall, Whitney Museum of American Art, the Fresh Air Fund, American Jewish Council, Breast Cancer Awareness, NOW Legal Defense, and the Ovarian Cancer Society.
Among Lundgren's passions is recognizing and developing the talent of high-potential individuals who enter the retailing business at Macy's and Bloomingdale's. Inside the company, Lundgren champions his company's leadership and training and development programs. He widely encourages other executives to emulate his practice of spending at least 30 minutes each week with up-and-coming executives in the business.
It's no surprise that Macy's is often cited as a preferred employer. The company is among the highest-ranked retailers on
BusinessWeek
's list of the "Best Places to Launch Your Career." In an independent study published by
Women's Wear Daily
, Macy's was ranked the No. 1 ideal employer for undergraduate students interested in the fashion, retail, and apparel sector.
Lundgren is a regular visitor on college campuses, where he shares his perspective with retailing and fashion students. He is well known at the Fashion Institute of Technology, as well as the Terry J. Lundgren Center for Retailing at the University of Arizona, his alma mater. He delivered the university's commencement address to the graduating class of 2000 and was awarded the Honorary Doctor of Laws degree. He also holds an Honorary Doctor of Science degree from Suffolk University.
Lundgren, a native of Long Beach, Calif., launched his own career in retailing at Federated Department Stores, Inc. (now Macy's, Inc.) in 1975 when he joined the executive training program at Bullock's in Los Angeles after his graduation from the University of Arizona. He quickly rose through positions of increasing responsibility over the next decade in buying, store management, and human resources, reaching the senior positions of general merchandise manager and director of stores at Bullock's. In 1987, at age 35, he was named president and CEO of Bullocks Wilshire, then an upscale chain of specialty department stores owned by Federated.
Lundgren left Federated after its acquisition by the Campeau Corporation in 1988, joining Neiman Marcus in Dallas, where he served briefly as executive vice president and shortly thereafter was named chairman and CEO. He returned to Federated in April of 1994 as chairman and CEO of the Federated Merchandising Group. Through significant acquisitions over the following 18-months (including Macy's and Broadway Stores), Federated more than doubled its size.
In his capacity as chief merchandising officer, Lundgren was credited with effectively easing the merger of Federated's and Macy's merchandising functions and initiating the strategic development and marketing of a strengthened private brand program within Federated.
In 1997, Lundgren was elected Federated's president and chief merchandising officer. He added the title of chief operating officer in 2002 and became president and CEO in 2003 before assuming his current titles of chairman, president, and CEO in 2004.
As chief executive officer, Lundgren led Federated's acquisition of The May Department Stores Company in August 2005, nearly doubling again the size of the company. He has expanded the Macy's and Bloomingdale's brands on a national basis, invested for significant growth of the company's online businesses, initiated memorable national advertising campaigns, and begun to explore international markets as Bloomingdale's opened in Dubai in February 2010. The company has led the retailing industry in attracting exclusive relationships with fashion brands that include Tommy Hilfiger, Rachel Rachel Roy, Ellen Tracy, Donald Trump, and Martha Stewart Collection.
Terry and Tina Lundgren, along with the entire Macy's and Bloomingdale's organizations, salute the talent and excellence at FIT and the University of Arizona. These two fine institutions plan an integral role in developing the next generation of leadership in fashion and retailing.